09.07.2021
Changes Push > iOS SERVER
Updates Apple push API to HTTP/2 php-curl supporting HTTP/2 is required check this documentation page. Push > iOS APP REPUBLICATION
Improves iOS push notifications when app is in foreground, users will now get a regular notification with sound. Modules Previewer > Android / iOS APP REPUBLICATION
Fixes broken assets paths for the previewer module.
--------------- AND ---------------
Changes Editor > Forgot password
Adds logo & signature on the forgot password e-mails, also uses the whitelabel settings when configured. HTTP/2 Test for php-curl
Improves the HTTP/2 test performed with php-curl extension.
Adds a cli command ./cli test:http2 to check the cron command. Fixes Push SERVER
Fixes standalone push missing APP_ID in some cases with external modules. Apps > Button link, sms, tel IOS REPUBLICATION
Fixes some button & links not correctly opening inside custom page, and few other features. Google Chrome
Fixes a CSS issue occurring after latest Google Chrome update, that caused editor blocks to have lot of blank space. MomentJS locales
Adds missing MomentJS locales on the editor, causing app overview to not translate dates properly. Deprecations Facebook > General
Disables the facebook feature due to incompatible recent APi changes & requirements.
Removes facebook option from the Media gallery choices
--------------- AND ---------------
Changes Feature > Social wall REPUBLICATION
Adds a new post share option. Apps > Social sharing REPUBLICATION
Improves social sharing library and allows to share from webapp. Apps > My account REPUBLICATION
Improves loyalty program & stripe credit card information design, to match latest UI changes. Roles > ACL
Adds ACL for Templates under user roles.
Adds ACL for Layouts under user roles. Backoffice > Editor > Users
Adds the user role in the list. Backoffice > Manage > Applications
Removes the now empty User information section.
Fills the Application owner with the correct user information. Backoffice > Advanced > Modules
Shows the enable action action all the time, and not only when under development.
Allows to disable layouts & templates like modules. Restore app sources
Improves chmod and download priorities.
Adds more logging during restore to help debugging. Fixes Cron scheduler > SSL/HTTPS renew
Improves the renew scheduler to prevent date skip in case of previous failure. App > Contact iOS REPUBLICATION
Fixes contact phone button not working. Deprecations Facebook > Login
Removes facebook login option from My account (no longer working).
--------------- AND ---------------
Changes Apps > AdMob|iOS REPUBLICATION
Adds the App Tracking Transparency dialog to match latest Apple requirements. Feature > Places
Reducing default map zoom from 10 to 8.
Adds a default zoom option to override the new default value. Fixes Feature > Places
Fixes the place title never updated inside app. Feature > Social wall
Fixes double a href / links double encoding leading to incorrect external URI links. Editor > MomentJS|Dates
Fixes momentjs library loading to preload the correct locale when available. Improvements Modules icons DEVELOPERS
Module installer now allows for colored icons.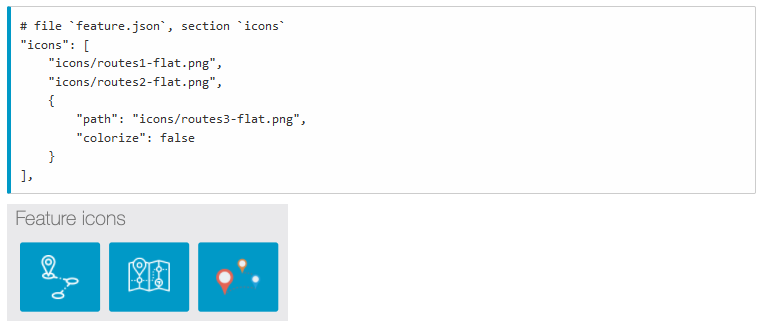 colorize: false is used to prevent icon to be colorized (flat) like regular icons.
--------------- AND ---------------
Changes Apps > AdMob|iOS REPUBLICATION
Updates AdMob SDK to match latest Apple requirements. Backoffice > Installer > Modules
Allows installer to accept modules with .sib extension.
Note: this implementation intend to prevent downloaded archives to break or be corrupted. Fixes Feature > Push iOS / Android
Fixes random push payload that never reached phones. Apps > Layout 3 Full
Fixes the layout CSS to make it completely responsive, and preserve the square buttons. Feature > Custom page, Places, Inbox
Fixes mailto: mail buttons not correctly opening. Improvements Feature > Social wall
Allows to create new post with only images from editor.
Allows to create new post with only images from app. REPUBLICATION Feature > My account
Adds a new action to delete user account, user can access it in My account > Settings.
Templates DEVELOPERS
Allows embedded icons.
Allows to insert the same feature multiple times
25.02.2021
Major changes Apps > iOS/Android
Updates AdMob to the latest SDK:
Using WKWebView for iOS (UIWebView was previously used).
Removed all global AdMob settings in backoffice & plans.
Due to changes in AdMob SDK, you must now use app settings only.
Allows app admin to enable Test ads during development/build stage to prevent any abusive and/or mis-click on live apps.
Adding ads tracking consent modal for iOS 14+ devices.
Increased native version to 19 to prevent unwanted native updates.
Fixes incorrect native version, not preventing app to auto-update in background when enabled.
Removes disable lock updates from the editor, now only available in the backoffice.
Enforces lock updates on all applications by default, option must be opted in from the backoffice now
Definitively removes AutoUpdate code as it's no longer in use since latest major updates.
Updates Firebase & push codebase to meet latest requirements for Android 9+ & iOS 14+.
Patching unexpected logout of applications. @Migastone contribution
Note: in order for AdMob to work, apps/sources now require the AdMob app identifier for every application.
Apps > iOS 14+
Fixes iOS viewport not fitting whole screen on app start on iOS 14+.
Apps > iOS without AdMob
Fixes restore app sources not correctly working for iOS without AdMob ios-noads.
Modules deprecation
Complete removal of Folder v1 & Wordpress v1 support inside apps & editor.
Backoffice > Applications > Android
Adds an action to download the current keystore.
Adds a keystore uploader for pks or pfx along with the store password & alias.
Improves the PFX import by automatically reading the alias.
Shows a warning if the google-services.json file for Firebase is outdated and requires an update.
Backoffice > General
Shows a warning when you are running a known unstable version of Siberian, with instructions & a link to the release notes.
Forms Developers
Improves support for FileInput inside forms & editor.
Web application firewall (WAF) Critical
Fixes false positive when empty/hidden files are uploaded through forms on editor & backoffice affecting many features.
Improvements Modules > My account
My account modals now uses same back icon as set in the application.
Modules > Contact
Adds an option to hide the locate button/action.
Modules > Places
Adds an option to hide a location on the map.
Modules > Event/Calendar
Adds an action to duplicate a custom event.
Makes end date/time optional, leaving fields blank will remove them from app.
Modules > Places
Optimization of the map loading, now loads only the places visible on the map boundaries instead of all places previously.
Adds a default map loading location to fallback when GPS is not available on the user's device.
New Modules
Backoffice > APK generator service > Android App Bundle Testing.
The APK service now builds both Android App Bundle (.aab) & APK, both are uploaded & available using the remote service only.